Power to the Producer
Bread and Roses
A unique florist working with refugee women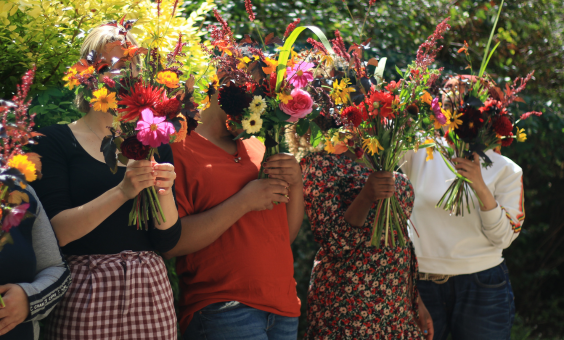 Location

London

Working on

Helping displaced women with training, language and making connections
Bread & Roses are a florist with a difference. All of their arrangements are made by women who have been displaced from their home countries. Bread & Roses offer floristry training programmes to support refugee women and to help them strengthen their English skills and to build networks for support and companionship.
The charity was set up by Olivia Head, Sneh Jani-Patel and Liv Wilson in 2016. Today, Olivia and Sneh lead the board of trustees and Liv leads all the floristry activity.
All of the flowers Bread & Roses use are seasonal and are grown in the UK. They also make great use of dried flowers and have recyclable packaging. All of this adds up to beautiful designs created with the climate in mind - a hugely important consideration if we want to prevent further communities being displaced.
Why they are different:
Because of the way they operate, each arrangement from Bread & Roses will be a one-off. These are beautiful, bespoke pieces that showcase a wide range of blooms and the creativity of each individual.
Why they are kind:
Evidence shows that refugees with poor language skills are most at risk of exclusion and classes are often difficult for women with childcare responsibilities to attend. The Bread & Roses model has been so successful that there are now sister organisations in both Paris and Tel Aviv.
All Products