Power to the Producer
Designs in Mind
A working studio in Shropshire, where adults living with mental health challenges work together on ambitious, experimental art and design projects.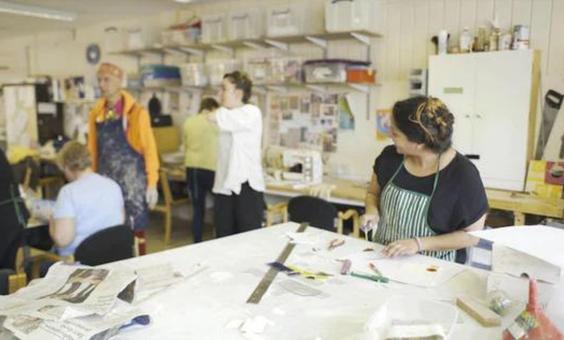 Location

Oswestry, Shropshire

Working on

Opportunity for adults living with mental health challenges
Designer goods
You have to look for the Designs In Mind studio. It's tucked away down an alley in the Shropshire market town of Oswestry: you could feel safe here, away from the world. But when you get inside it's bright, full of light and colourful objects: you could laugh here, and people do.
The safety and laughter are both important. The studio is a hive of activity, there are close to 100 members and they believe that design has the power to positively affect how people feel, not only in how it looks but also through the experience of making. People join Designs in Mind by being referred by a doctor, through Social Prescribing, or by visiting the organisation's shop which is situated on the high street.
But this is no macrame-filled art therapy class, it's the real deal. "We're not a service provider, we're a working studio," says Jo Davis, Founder. They produce everything from furniture to postcards and will even take bespoke commissions and collaborations.
It's not just me talking to someone or taking a pill...I'm finding my purpose.
Why they are different:
When people join Designs in Mind they learn the skills they will need to join in and work on live projects. The studio is constantly experimenting, taking risks and being inventive, this shows in the quality of the finished pieces.
Why they are kind:
Don't listen to us, listen to Bill who formed part of the team silk screen printing panels for Owestry's Gobowen Library. Eight months before joining Bill says "I was incapable of leaving the house. My anxiety was high on my first day, I was apprehensive, but within 10 minutes I had calmed down. I was settling in straight away, I felt at home, like I had found a new family... I'd be lost without coming here and I would slip back." Bill's just one person and there are many more like him.
All Products