Power to the Producer
Elvis & Kresse
Making luxury accessories from scraps and fire hoses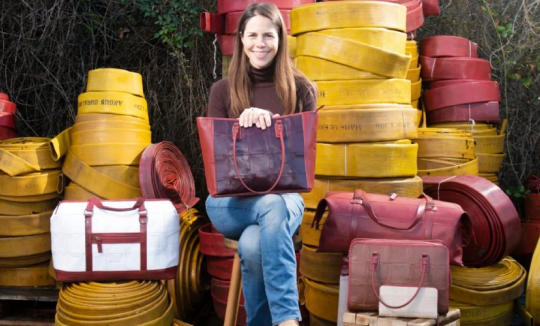 Location

Kent

Working on

Reusing materials that would otherwise be wasted to create luxury products.
Elvis and Kresse have to be the only luxury bag brand making their products from worn out fire hoses. In 2005, Kresse Wessling was at an event with some members of the London Fire Brigade, who showed her the damaged hoses that get thrown into landfill.
Horrified, Kresse threw 22 metres of hosepipe over her shoulder and dragged it home to present to her partner, James Henrit (also known as the Elvis in this equation). Rather than being equally horrified, James/ Elvis began making belts and then bags from the nylon-backed rubber.
As their business grew, they attracted the attention of Burberry and formed a five-year partnership that should save 120 tonnes of leather. The duo also work with parachute silk, coffee sacks and banners from auction houses, amongst other things.
Why they are different:
Aside from their incredible dedication to reusing materials that would otherwise go to waste, Elvis and Kresse also donate 50 per cent of their profits to charity. They contribute to a wide range of initiatives, but anything earned from the fire hose range goes, appropriately, to The Fire Fighters Charity.
All Products