Power to the Producer
Forty Hall Vineyard
Still and sparkling English wines made organically in London, supporting ecotherapy for well-being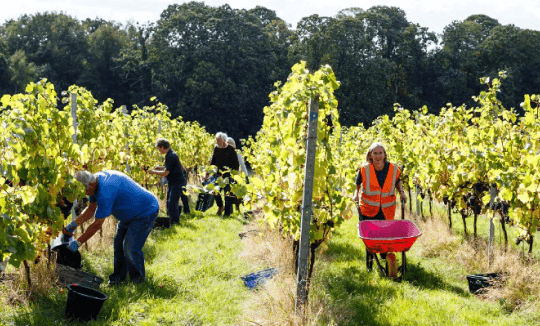 Location

Enfield, North London

Working on

Mental health, physical well-being and connection to nature
Forty Hall are - and we love a nerdy history fact - the first commercial-scale vineyard in London since the middle ages. The vineyard occupies 10 acres on the site of Capel Manor College's Forty Hall Farm in Enfield.
It's run as a community enterprise and profits fund their ecotherapy scheme, where local residents can work with them to improve their mental and physical health, social connections and knowledge of horticulture.
They grow Chardonnay, Pinot Meunier and Pinot Noir grapes, which are made into their Sparkling London Brut, made in the traditional Champagne method. Then there are Bacchus and Ortega grapes which are used to make single variety dry whites.
Why they are different
Forty Hall's winemaker Will Davenport has won multiple awards and specialises in using "modern equipment and traditional methods". The pale gold London Brut combines fruit sweetness with a dry acidity, the Bacchus is fresh and dry and the Ortega has a light/ medium body that makes it perfect with seafood and cheese.
Why they are kind
They particularly encourage people with mild or moderate mental health challenges to take part in the ecotherapy schemes where they can choose to work alone or in pairs or groups, with the guidance of a therapist.
All Products