Power to the Producer
Goldfinger
Where aesthetics and ethics meet, to create beautiful furniture, employment and community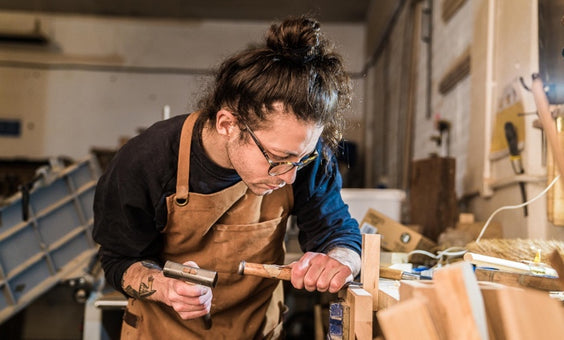 Location

West London

Working on

Environment, waste, skills, opportunity
What do you first think of when you hear the name Goldfinger? Is it Shirley Bassey belting out the Bond film theme? Well, there is a vague link. Perhaps, if you're slightly more design inclined, you'll think of the Brutalist architect Erno Goldfinger - in which case you're getting closer.
This Goldfinger is a design studio, specialising in woodwork and other crafts. They're based at the bottom of west London's Trellick Tower, designed by Erno Goldfinger. In 1941 the architect wrote: "Cities can become centres of civilisation where men and women can live happy lives. The technical means exist to satisfy human needs."
Goldfinger Design, who took his name, also take something of that spirit. They believe deeply in sustainability, reusing wood and, if this isn't possible, making sure it comes from sustainable forests. They also believe in investing in well crafted objects. "Good design, made well, lasts longer," they say.
Founders Marie Cudennec Carlisle and Oliver Waddington-Ball started Goldfinger in 2013. Their workshop makes bespoke furniture and other interior fittings, but over the years they have diversified into other areas. They opened the Goldfinger Kitchen, Sicilian spot Panella, where they use food that would have gone to waste to cook meals which are then delivered to local residents, helping with both food poverty and social isolation. They have also opened a shop. If the price of a custom-made table is beyond you, you can still experience their skill and the delight they take in making on a smaller scale. We love their birch block chopping board.
Goldfinger are also committed to working with young people who live near their studio, providing training and apprenticeships to those not currently in education or employment.
So, what's the Bond connection? Well, Ian Fleming, the author of the Bond novels on which many of the films were based, knew the architect through a mutual friend. There was some sort of beef, possibly based on the design of some houses near to the author's home. In a move as grand as it is petty, Fleming named his supervillain after Erno Goldfinger.
Why they are different:
These are handcrafted products, built to last. The style Goldfinger choose to work in is pared back, but don't ever think this is simplicity without thought. The design is carefully considered: the lines of each piece, the way each material is used, the finish.
Why they are kind:
Since they launched, Goldfinger Design have saved 389 tonnes of material from landfill and turned into new products. They have provided 13,809 hours of paid work for young people from the nearby community.
All Products