Power to the Producer
Hackney Herbal
A community garden with serious root manoeuvres, bringing people and nature together for the benefit of Mental Health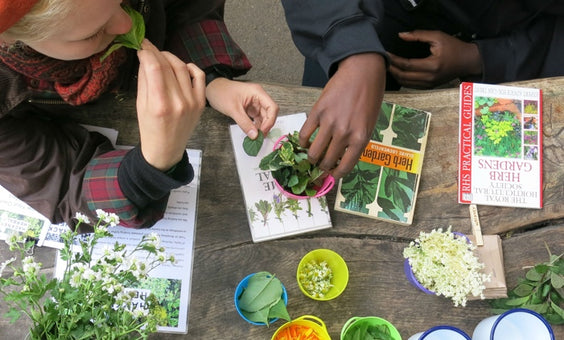 Location

East London

Working on

Community, Horticulture & Mental Health
There's something deliciously witchy about a herb garden. Wouldn't you love to be a wise woman, moving serenely through the green, bees buzzing overhead and casually astounding people with what you can do with a yarrow root? Yes I would! Like Mrs Madrigal!
Hackney Herbal are living this (admittedly very specific) dream. Based in east London, founder Nat Mady wanted to share her herb knowledge and work with the community, especially if people from different countries and backgrounds could also share what they knew about roots, leaves and flowers. There were, thought Nat, loads of herbs around her - in private and public community gardens. What if they could be harvested and put to good use?
Hackney Herbal grew out and up from this thought and has now been running since 2015. Herbs are gathered and prepared and blended to make herbal teas and then sold. The proceeds fund workshops, including collaborations with mental health charities such as Mind, where people can learn and also reap the benefits of working outdoors and meeting others.
Why they are different:
This is the good stuff, what herbal tea should be. You will find no synthetic and over-sweet blackberry flavourings here. The herbs in every tea are picked and blended by hand. The taste is incredible and they even look pretty.
Why they are kind:
Their workshops and ongoing projects can boost mental health and bring together different parts of the local community. We especially love the world herb map, where recipes and herb stories are collected from people who attend events. So far, they've covered 80 different countries.
All Products