Power to the Producer
Iris Hantverk
Beautifully crafted brushes made by visually impaired craftspeople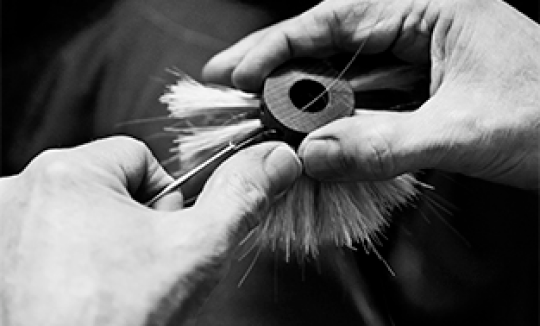 Location

Sweden and Estonia

Working on

Supporting the visually impaired by creating jobs
Since 1870, visually impaired people in Sweden have been hand-making brushes of all types. In 2012 it was bought by two employees Richard Sparrenhök and Sara Edhäll, who now run it.
They now have 17 employees and work with craftspeople in both Sweden and Estonia, keeping old regional craft techniques alive. When the company was first set up, brush binding was seen as one of the few jobs people with visual impairments could do. Over 150 years later, it's a celebration of skilled technique.
Every brush is made with a specific job in mind. Brushes for babies are made with soft fibres, like goat hair, while those for sweeping floors use a harder mix of plant fibres.
Why they are different
The designs used are unique to Iris Hantwerk brushes and based on traditional methods. They are of an incredibly high quality and nearly all the materials are natural. These are brushes that will bring a little bit of joy to everyday tasks and last a long, long time.
Why they are kind
Until 2012 the project was backed by the Swedish government's Socialdepartementet. It's now a social enterprise that creates jobs for the visually impaired and values their skills and has expanded in Estonia. Their products eliminate the need for plastic tools, too.
All Products