Power to the Producer
Lux Luz
Side hustle with incredible purpose, giving 100% of their profits to domestic violence charities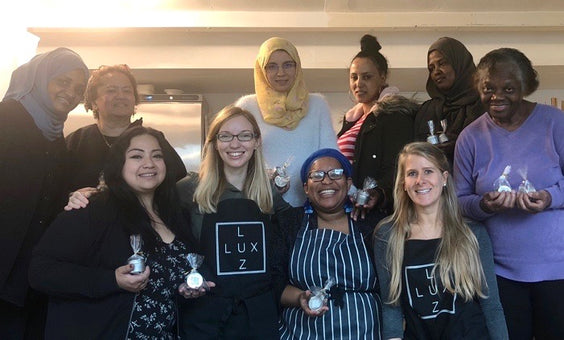 Location

SW London

Working on

Alleviating the effects of Domestic Violence
So good they named it twice: Lux means light in Latin and luz means the same in Spanish. (All that time we spent with Duolingo has really paid off.)
Lux Luz was founded by Anna Ling and Sophie Arup. Both of them still have day jobs and they do everything, from making sure their funds are allocated correctly to creating their wonderful candles.
They give 100% of their profits to domestic violence charities, enabling women and children leaving abusive situations to have parcels to cover essentials and fund art therapy classes for survivors processing their trauma and rebuilding their lives.
Why they're different
The candles are made from sustainably farmed eco-soy, made from the oil obtained from soy beans, which is then purified and solidified into a wax. There are no pesticides or herbicides used in the process and the end result is fully biodegradable. Their scents are delicious, fig, lime and basil, coconut and vanilla and other edible-sounding lushness.
Why they're kind:
Anna and Sophie wanted to do something: they'd seen that one in four women in the UK were affected by domestic violence. But what could they do? They wanted a product that was mainly bought by women. Ice cream? Too hard to make to a high standard and, to be honest, too melty. Candles, however, only melt in a good way. There they were: two women, selling to women, helping women.
All Products