Power to the Producer
Quazi Design
A design studio in Eswatini, Africa, recycling paper into homewares and fashion with incredible results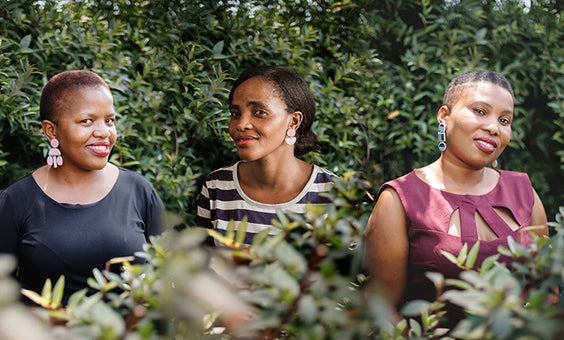 Location

Mbabane, Eswatini

Working on

Employing & empowering women; waste & pollution; recycling & reuse
Sibongile Maseko has been there since the beginning. She was the first person to begin making homewares and jewellery with Quazi Designs back in 2009 and she's now the production manager and head trainer. Working alongside her are a group of other women, all from Eswatini (formerly Swaziland).
They work in partnership with a local magazine distributor. Any unsold copies are taken to Quazi where the artisans use different techniques to create an amazing variety of pieces, including pulping, which - almost magically - can make the former magazines look like stones or layering pages by hand to produce what they laughingly call 'wood-paper', taking the material back to its tree-like state. Quazi even state they want to "change the perception of recycled materials". And they do. Unless you'd read the back story, you would never even guess your new bowl started life as a palette of abandoned paper.
Sometimes, the pieces produced by the artisans makes it back into a magazine.When that happens, manager Jabu Mdlovu takes the page into work and shows it to the studio. She also shares every email they get from satisfied customers. The women in the studio are working for better lives for themselves and their families, but they appreciate a bit of glamorous feedback too.
Why they are different:
The craft skills on show here are impressive. In addition to the paper, the team now work with brass offcuts to create settings and extra flourishes. But it's the design that really lifts these pieces: bold shapes in strong, rich colours. These are statement pieces that everyone will comment on.
Why they are kind:
The Covid-19 crisis has meant pressing pause on work in the studio, as tourists can't visit and restrictions have made exporting difficult. "We women face our countless daily struggles with tremendous strength but the current pandemic has had significant effects on our well being, robbing us of our sustainable source of income," says Jabu. Thirteen women have needed to return back from Mbabane, the capital city, to their rural homes, but they are still part of Quazi: the company has been raising money for plants, seeds and training in permaculture. This means the women can use their land to increase their families' food security.
Unless you'd read the back story, you would never even guess your new bowl started life as a palette of abandoned paper.
All Products