Power to the Producer
Stand4Socks
Socks engineered for comfort and to help the homeless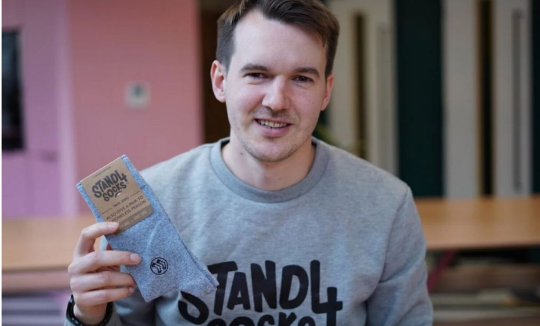 Location

Manchester

Working on

Helping homeless people stay warm with specially designed socks
Josh Turner, one day, thought "why can't socks change the world?" In Josh's view, many many people wear socks every day, so if the act of buying socks could benefit a person in addition to the buyer… Well, that could make a difference. So for every pair of socks bought, another is donated to a homeless person.
Josh was also looking at the design of socks, which he felt hadn't changed in decades could be improved upon. After years of research, Stand4Socks now say they make the most comfortable sock on the market.
The socks they donate to homeless shelters have been carefully researched too. These aren't unsold over-ordered socks, they've been designed with the needs of people living on the streets in mind. They are thick, in dark colours that will show less wear and have antibacterial properties, helping with foot health and smell.
Why they are different
So, why are these socks so comfortable? Well, Stand4Socks have done away with the toe seam, meaning there's nothing to rub or ruck up against the end of your shoe. They have also looked at the overall shape of the sock, tweaking it around the arches and reinforcing parts that are likely to wear out.
Why they are kind
Socks are one of the most requested items at homeless shelters. We all know the misery of having wet feet, but socks are rarely donated. Stand4Socks one-for-one schemes have currently given away 150,000 pairs so far.
All Products