Power to the Producer
Step and Stone
An award-winning bakery who train and employ young people with learning disabilities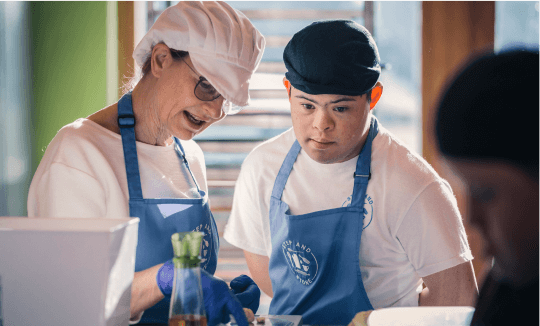 Location

Bristol

Working on

Opportunity for adults with learning disabilities
Step and Stone specialise in hand-making lavosh flatbreads, producing thin, crispy Middle Eastern-style snacks with a variety of flavourings. Recently they've also started to expand into new areas, such as the delicious biscotti we're stocking.
The bakery was started by Jane Chong and Jane Kippax. The two Janes met through their children, Lottie and Andrew, both of whom have Down syndrome. Both women said that they "see their ability not their disability" and wanted to create opportunities for others with learning disabilities.
Young people who work with Step and Stone gain in skills and confidence and the end goal is to help them find paid work in other companies. As a community interest company, any profits made by the bakery are put back into the business.
Why they are different:
Their flatbreads have won several awards, including taking gold at the Taste of the West Awards in 2021. They focus on high-quality ingredients, aiming to source locally, including organic, unrefined Shipton Mill flour from Gloucestershire, extra-virgin cold pressed rapeseed oil from Somerset and English sea salt flakes.
Why they are kind:
In addition to training young people with learning disabilities in their bakery, Step and Stone also run a programme to help other employers hire from their talent pool. They offer a personalised job match, followed by training and support for the hiring company.
All Products