Power to the Producer
The Clink
It's not a standard restaurant…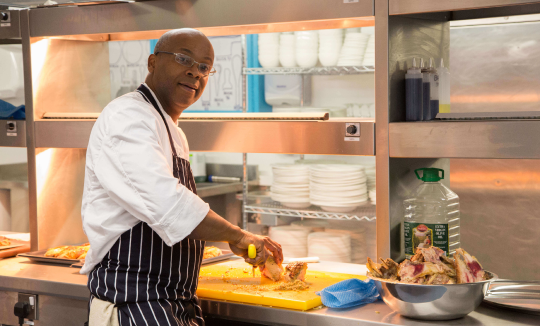 Location

Across the UK

Working on

Supporting inmates in Britain's prisons and helping prevent reoffending
Welcome to The Clink. It's a well-named chain of restaurants as all of them are inside working prisons. Inmates gain accredited City & Guilds NVQ training for new careers by working within them.
The original concept came from Alberto Crisci, then catering manager at HMP High Down in Surrey. He recognised real potential in the prisoners.
During the Coronavirus lockdowns, they diversified again. The team at HMP Brixton pivoting to providing a take out service and the charity as whole also produced some kitchen wares, which we're glad to stock here.
Why they're different
The Clinks, despite their locations, despite the fact that many of the staff are in training, are proper well-reviewed restaurants. The merchandise they've produced is exactly the same: this is restaurant quality stuff.
Why they are kind
The Clink's scheme has one of the lowest reoffending rates in the UK and demonstrates what can be achieved when society collectively engages to help those who want and deserve a second chance.
All Products