Power to the Producer
Yellow Submarine
Wonderful cakes and brilliant opportunities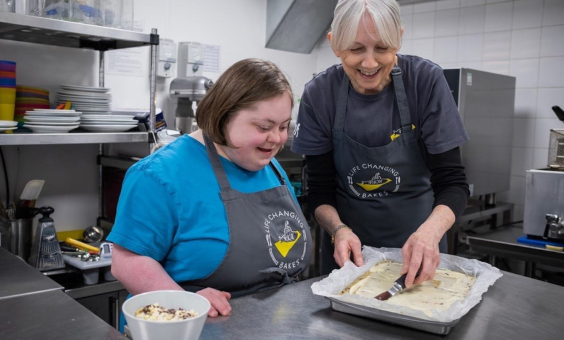 Location

Oxford, Oxfordshire

Working on

Helping people with autism and learning difficulties
These bakers don't live in their Yellow Submarine, but they do work and play in it… Yellow Submarine is an Oxford-based bakery and a charity that helps people with autism and learning difficulties live life to the full.
The organisation started in 2009, providing holidays for adults with learning disabilities and respite for those who cared for them. They now run two cafes and create incredible baked goods to be sold online - this enterprise helps fund their work and provides real-world work experience for their service users.
They describe their deliverable goods as "life-changing bakes". The apprentices involved expand their skills and horizons, but anyone who bites into a Yellow Submarine-produced treat will also consider it a life-changing experience.
Why they are different:
The brownies, almond kisses and biscuits produced by the team are top notch and frequently pick up awards and accolades. This is proper fresh baking, nothing factory produced or chock-full of preservatives.
Why they are kind:
Yellow Submarine isn't just a workplace, it's also a social hub. They provide holidays, nights out, activity days and general parties and good times alongside their apprenticeships and training.
All Products