Power to the Producer
Little Sun
How good design can light up the world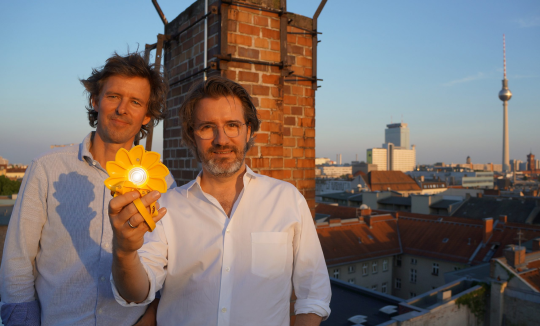 Location

Berlin

Working on

Producing solar powered lights to support rural communities in Ethiopia
Little Suns are - unsurprisingly - solar powered. Five hours of charging in the sun means 40 hours of light at the dimmest setting or five hours of light at the brightest setting. Your sunflower can light up your balcony or soothe a child to sleep.
The company was set up by artist Olafur Eliasson and engineer Frederik Ottesen in 2001: a perfect marriage of beautiful design and elegant practicality.
The two founders began with the aim of providing clean energy lights to rural communities in Ethiopia. Over 1.2 million personal solar devices have now been distributed to students, refugees, teachers and health care workers.
Why they are different
How often do you get to buy an object designed by someone who has exhibited at the Tate Modern? Olafur Eliasson's work is usually grand in scale and sought after by the world's biggest art institutions.
Why they are kind
Electric light means so much. It means extra hours of study for children. It means doctors having light to work by. Solar-powered light has additional advantages: Little Sun estimates their devices have saved households in Ethiopia $150 million so far. Not having to burn wood or oil also means pollution is reduced and areas are less likely to suffer from deforestation.
All Products